Three ONDA TECHNO Searchers Won Bronze Certifications of Accreditation at the 2015 Patent Search Competitions!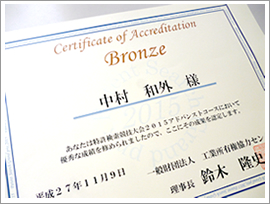 In September 2015, three of our searchers won bronze certifications of accreditation in the advanced course at the Patent Search Competition organized by the Industrial Property Cooperation Center (IPCC).
Our searchers, Messrs. Hideki Azegami, Kazuto Nakamura and Kazuhiro Nakamura won the certifications among 285 participants from all over Japan. In the Patent Search Competition, searchers test their knowledge and skills by conducting actual domestic and foreign searches. The competition is a well-known way to objectively assess searching ability.
Our searchers consistently win prizes, including:
2010: Second Prize (1)
2011: Prize for top 5% (1)
2013: Gold (1) and Bronze (1)
2014: Silver (1) and Bronze (1)
2015: Bronze (3)
We require our searchers to obtain at least the second grade of the searcher examination held by the Information Science and Technology Association Japan. These qualifications are a well-respected measure of searching skill.
ONDA TECHNO has its own search department including an attorney dedicated to search. If your search is related to opinion work or appeal, he will be able to provide professional support. His knowledge of the search process enables smooth procedures. Further, our US and Chinese attorneys can provide opinions on references found in searches.